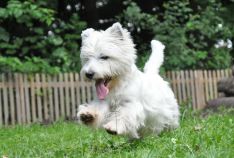 Sønderdalen's Dion - "Dytte"
Born: 31. 08. 2009
Sex: Male
Dkk. Reg. Nr.: DK18009/2009
Some say that every circus with respect for it self, has a great circus clown. Our circus clown is Dytte. He is the funniest, wildest and most adorable dog in the whole wide world.
When we are in the garden or on the fields Dytte is the first to bring us some toys to play with, and when we throw it he works like he was a golden retriever - fetch and deliver. He is very obedient and loves to train tricks.
Dytte is very fast, and since he was a puppy he has had the most stunning and breathtaking movements - he doesn't trip along in the show ring - He fly's.
On a show in Helsingør in 2010 a journalist fell in love with Dytte, and wrote a whole article about him in Helsingør Dagblad.
He has 3 BIS placements as a puppy and 4 Best Dog placements on his résumé.
He is a really joy to show - always happy happy.