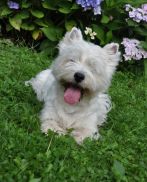 Sønderdalen's Knight Jannick - "Jannick"
Born: 19 . 08 . 2008
Sex : Han / Dog
Dkk. Reg. Nr.: DK18306/2008
Jannick is the sweet, masculine og gentleman of the family.
He wants to play all the time, he paw wawes to everyone and loves to sit on peoples laps.
Jannick is very easy to train, and pays attention to his "mommy".
He is a very nice showdog, and enjoys to be the center of attention.
In 2010 and 2011 he has several times been placed in both Junior-, intermediate-, open class and best dog.
Jannick has been on the front cover more than one time - on the Danish Terrier Club magazine in August 2011, and he is the jumping westie here. He is also in the Westie portrait in the Danish kennel clubs magazine "Hunden". Click here to see.